Explore our Website for inspiration and ideas for your next event!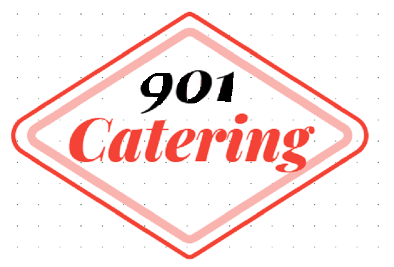 901 Catering's passion is service! We offer a wide range of cuisines from across the world and hometown favorites, using only fresh ingredients, beautifully presented, provided by local farmers, ethnic shops, and local butcher shops to continue to provide both traditional and creative new dishes. It all started with Laura Lee's Lunchables poplar demand to meet the needs of delivery, off site services and menus. Expanding our staff and adding experienced talent to handle full service catering needs for weddings, picnics, employee celebrations and on site cooking...it's local and you will taste the difference!

Choose from our sample menu options listed on our site or let our creative sales team and chef make your next event unforgettable.

Our commitment extends to both our food and services, it is more than a great menu. We compliment our food by offering the ultimate in a wide range of services and cuisines. Meeting the needs of Corporate Meetings, Training, Trade Shows, Galas, Fundraisers, Awards Lunch/Dinners, Holiday Parties, Picnics and Wedding Receptions, Rehearsal Dinners, Golf Outings, Tour Buses, and our culinary team loves to cook on site with our portable equipment to give you the best experience!

Book us for your next special event or party. Contact us TODAY at 901 Catering: 901-730-1817

901 Catering is committed to excellence...and to being the finest in catering!
Testimonies
** Thank you for working with our needs of our donors. Your guidance in menu planning was very helpful and we look forward to more events in the future. American Heart Association 1/22

**Ribbon Cutting Success! Thank you for being flexible during planning, the contractors literally finished just hours before the event. Many of our donors have asked for your information and we will certainly be calling you again. Orpheum Memphis 12/21
** We were referred by the hotel our firm had selected for a long and upcoming trial in Memphis with a team of 30 people. We stopped shopping for daily catering after speaking with Allison and Laura Lee. Heck, the kosher meal didn't make them bat an eye as our time fell over a holiday. The food was fresh and on time everyday, set up and kosher meal delivered properly. We do have business in Memphis from time to time, will be calling again and appreciate the bbq for the trip home. Thomas M. 11/2021

** My first fundraiser for my 5013C and you were highly recommended by several peers. We had an amazing evening. The only time it was quiet was while people were eating, we always took that as a compliment. Your staff was just the best and we can't thank you all enough. Gina C. 10/2021

**We needed lunch every day, Monday through Friday for 25 people for six weeks. Kept running into brick walls trying to figure out how to make it work. One phone call and Laura Lee set it up, complete with meal rotation and disposable. Food was great and one time EVERY DAY! Thank you for service. Rod H. 9/2021**

**We appreciate the partnership to meet our clients needs when utilizing our meeting space. Your flexibility has been a breath of fresh air as we try to get things going again. Brittany H. 8/2021

**Meetings and no staff, thankfully we know Laura Lee and Allison have time in our world. Thank you for being a good partner as our industry re-emerges from the pandemic. J. Baker 7/2021

**Got a referral from one of my partners in crime and cannot tell you how pleased we are with the food, service and the touch of setting up. We are always in a cramped construction trailer and your crew made everything easy, they set it up and we were able to easily dispose of everything to get our work space back. We will be using you throughout the year. Robin R. 06/2021

**Allison made sure all the important details were met to our needs and gave us a wedding we will remember. The food was better at the reception than at the tasting. M. Swann 5/2021

**We were bound to get this wedding done but had lost our original caterer, our venue recommended 901 Catering. It's amazing how things work out how they are suppose to! Allison and your crew were the best. Olivia R. 4/2021

**We just couldn't see handling this large of an event without professional help. Our seniors deserved to celebrate after the obstacles of this year. Thank you for making our families comfortable with social distancing, providing a great meal and kudos to your staff. M. Holloway 3/2021

**We could not have been more pleased, the food was delicious and your staff was amazing. We were recommended by other friends when we decided to do our Christmas party. Hopefully we will do it again next year! Jennifer H. 12/2020

**Four days of training and the only thing that went right was the food. Allison was johnny on the spot. I appreciate the extra effort during these strange times. D. Collins 11/2020

**Thank you for such an amazing wedding day! We were surprised by both the snack before the ceremony and the "to go" food. We didn't eat till we got back home. It was amazing and thank you for the pictures of the set up before the guests arrived! Nice touch. L. Sweatt 10/2020

**Plan, Adapt....execute.whew, oh and the food was amazing, we will call again soon. L. Courts 9/2020

**Everything was perfect for the bridal shower! Food, Set up and your assistance in planning. B. Orpet 8/2020

**Game plan #550....had to move the dinner and make it COVID friendly. Thank you Laura Lee for being on top of things as usual. G. Beck University of Memphis 6/2020

**Had no clue how all this was going to come together with moving our wedding from the original venue due to limited capacities. One meeting with your team and we had a game plan! Though a years worth of work seemed to be wasted, you incorporated all the important stuff and it was amazing. My guests are still complimenting the food and service and my wedding day was perfect. Thank you! L.Sweatt 5/2020

**We wanted to bless a small company after the COVID restrictions started taking place and we knew that our favorite caterer had taken a hard hit. We needed 500 box lunches and it was just a phone call away. I hope we can continue to partner with you in this crazy world right now , you have always been there for us! S. Brighton Methodist Hospitals 3/2020

**Couldn't have been more comfortable leaving town and knowing the catering was handled all week. We look forward to the ribbon cutting on our new facility. Your team did a great job! L. Courts Krone USA 3/2020
**Absolutely my new favorite caterer! Makes planning weekly service a breeze and meeting our dietary needs without skipping a beat. Sent a sample menu for graduation and it appeared exactly how I envisioned it. Your staff is so easy to work with and always an email away. R. Collins St Jude Biomedical 7/2019
**You make it easy as a pharmaceutical rep, your menu is priced right and dietary requests are never a problem. My clients love when I come in with "something different". Thanks for the back up receipt. R. Newberg 6/2019
**I cannot tell you how thrilled I am we were referred to you! Thank you for the fabulous food and service. Enjoyed working with your entire team and we have many opportunities this year to use you again and again. L. MIllar BOMA 5/2019
**Exactly the service when need as our team travels! The portions we plentiful and everything met the requirements for our nutritionist. We appreciate the flexibility and adjustments made to our needs this week and look forward to our return trip and week long run with the birds in May. J. Stratton Milwaukee Brewers 4/2019
**We loved everything and will be using you often...excited you are so close to our new location. Demetra W. FedEx Logistics 4/2019

**Got the referral from ServiceMaster, great food and service. We will be calling again soon. John S. , Cicsco, 3/2019

**Fried Chicken...hit it out of the park today! We will be calling you often! Marjorie W. International Paper 2/2019

**We would like to move forward with a contract based on your proposal and presentation for our training needs ongoing. We are looking forward to working with your team in 2019! Ken, FedEx Express Flight Ops
**The food and service have been great all week, this is the best decision we have made in 2019 so far, the students and staff looked forward to each meal. We would like to secure our class dates for the year. Raquel, St Jude 1/19

**Thank you for the great lunch and service for the SM Clean meetings...we have another group in March 2019 I need a bid on..same menu! Julie, Servicemaster 12/18

**We need another Taco Bar! This menu is a huge hit with our staff and we look forward to the holiday meal! Jade, Hi Speed 11/18
**We couldn't do Christmas without you...I retire in 6 years and 6 days...you are booked until then! Marilyn, IAC Companies 12/18

**Laura Lee, I can't thank you enough for the amazing gift baskets -- they were such a hit! G Beck University of Memphis 9/2018

**Lauralee, Thanks to you and Chris for a delicious lunch! Folks especially enjoyed his pasta salad. G Landaiche Bodine School 9/2018

**We couldn't be more excited to celebrate our grand opening with you catering our lunch. It was such an amazing day and the Taco Bar with the perfect menu! Thank you and we look forward to our next event! J Sutton Phoenix Exteriors 8/2018

**Our giving day is so stressful and we really appreciate the extra touches to the buffet to make the whole event a huge success! N Baker First Tennessee Bank 7/2018

**Three buses loaded and ready to tour Memphis! Thank you for the amazing box lunch and the on time service! Backbeat Tours 6/2018
**Our wedding was probably a small event for you, but it was everything to us! The authentic Irish Food was so appreciated, so good and can you believe nothing was left! I would recommend you and your company to anyone. Thank you. S. Goldstein 6/2018

**Italian Fest 2018 in the books! Girl the food was amazing as always....I wouldn't know what to do without you now. We are so thankful you are a part of the team! L Bowman Piasanos 5/2018

**All week...you were just a phone call away. Moving an event like ours is no easy task and your staff was there every time we needed them. The food was on time and amazing all week. I am sorry this is my last year to host our company in Memphis, but I will be passing your information along! Cristina, Clorox Companies 5/18

**My wedding day was definitely done my way! Thank you to Sally and Laura Lee for all of your knowledge and assistance during my temporary break downs. The food was just amazing and guests are still talking about it. The to go basket was perfect....I don't even remember the buffet, but the pictures was beautiful! L. Norman 5/26/2018

**Excellent presentation, amazing flavor and the vegan casserole was to die for. It's going to be a long year and we are so thankful to have you join the team supporting the 50th celebration #MLK50. 3/18 Jaenette O. National Civil Rights Museum
**Compliment of the day....tasted like I was at my mom's house for dinner. The Taco Bar left everyone full and taking cookies home for later. We appreciate the quality and the excellent on-time service. 3/18 Pastor M, Central Church

**The menu was perfect for our customer appreciation event and yes, the smoked chicken salad is rightly nicknamed "crack in a cup". We are pleased to learn you have a kitchen so close to our location on Carrier St. and will be using you more. 2/18 Deb K, IAC
**The Party Express Package was perfect for our Christmas party of 20! It was ready to display and serve and loved the touch of the disposable serving utensils included. I didn't have to dig through mine. Thank you for the lunch menu we will have needs in 2018! 12/17L. Callaway I Bank
**We always get to decorate the offices after I call you. Thank you for not only catering our lunch, but having plenty on hand and enough to take care of those that got stuck in meetings. The nutcracker theme was great in the decorations! Glad to know you are only blocks away from our new headquarters downtown and can't wait to check out the venue space too. 12/17 R. Nichols and M. Scott American Home Shield

**We got the referral from other admins to call for our holiday lunch event. Your attention to our vegetarian needs was very appreciated. They loved the additional vegan casserole. We will be calling for our regular lunch needs. 12/17 D. Cole International Paper
**OMG Crack in a Cup...well on a bun. But you were right the Smoked Chicken Sliders were all the rave! It was a great event and put us on the calendar for next year. 12/17 R. Kennedy Site Solutions
**We ate, we celebrated and we blessed a very deserving family. As always, the food and service we top notch. But you always answer the call above and beyond. You and Chef Chris are amazing to work with and have a true heart for others. Your generosity will come back to you both tenfold. Merry Christmas! 12/17 G.Wigington Service King/House of Grace
**Brunch was amazing! I didn't warn you that one of our staff is from LA and she said the Shrimp and Grits was the real deal. Thank you, happy Holidays and you will hear from us again. Thank the Chef! 12/17 D. Cooke Castle & Cooke Mortgage

**When you get the last minute go ahead, you can't play around with bids. I knew who to call! Outstanding, Excellent and the new CEO really enjoyed it. Thanks for decorating the buffet...didn't even think to ask. But you always take good care of us. We are truly excited you are so close to the new headquarters. 12/17 S. Ratliff ServiceMaster

**You know I wouldn't call anyone else, but I wanted to let you know that each year seems to get better. We had both locations at this year's event and the compliments keep pouring in! My favorite was the smoked beef brisket. We will be in touch for our spring training as usual. 12/17 M.Davenport IAC Companies

**The food, service and evening were beyond our expectation. Everyone so enjoyed our Christmas Party. We just learned that you service lunch needs too...can't wait. Thank you for your attention to the details. 12/17 D. Burke Liberty Mutual

What a great holiday party! The food was amazing and plentiful. We are very pleased with the presentation and the service. We do several events throughout the year and will be calling again soon. 12/17 C. Wardlaw Coventry Title, LLC

I don't get to say this very often because of my position, but I wanted to send a note of gratitude in working with you and your staff this past weekend. The food was hot and on time for every meal. The last day the meeting room had not been turned from the event the night before, one of the staff started assisting with stacking chairs, rolling tables, putting on table cloths while the chef and another member got the breakfast buffet ready. As I took a deep breath when the room was ready on time for the client (now never knowing it wasn't done) did it come to my attention that is was the owner helping us. Your time in the industry definitely showed today and you will be my first recommendation to our sales team. 11/17 D.Smith National Civil Rights Museum

Planning this training from New York made me a bit nervous and you were referred to us. One call to Laura Lee and I knew I had nothing to worry about for our meals. Our vegetarians (20 in our group) were blown away for the first time I can ever remember. Coordinating the travel, transportation and activities during our visit to Memphis was much easier . We have several groups coming through during the MLK50 year celebration and the meeting facilities at the museum were perfect. We will call you first! 11/17 T. Jackson International Coalition of Sites of Conscience

Thank you so much for all your help (and patience) this week! You were a great addition to the team and we couldn't have done it without you! J. Brown, Leo Events 11/17

How did we not know about you before now? Loved everything and we will be calling again soon! C. Hunt, Keller Williams 11/17

Excellent meal for our top producers! We will be using your services more often! R. Cox, American Home Shield Call Center 11/17
Just an appreciation note, but whoever we ordered lunch from today hit it out of the park. 👍👍👍 J. Seely, Shoemaker Financial. 10/17
The gift baskets of home-made goodies was a hit. They were a pleasure to present to our guest speakers for the conference this year. We are always pleased with your products and services. Dr. G. Beck, University of Memphis

Italian Fest 2017 in the books and we are already working on next year! We are so pleased that you took care of the food needs all weekend so we could focus on competing! We loved every menu and it just kept getting better night after night. We look forward to a long relationship with Catering Memphis Events! Lauren.. Piasano's Team Captain 6/16

Hackathon always makes me on edge. Thank you for everything is all went well! The food was so good and on time! Wendy F. Servicemaster
Your slogan says it...we were nervous. Thank you for all you guidance, planning and taking the worry out of our bridal shower. I know our family was bigger than most as the bride is marrying out of town and this was our chance to spend time with local family and friends. We loved the venue (pinot's pallette) and the food and server were both amazing. Wish her reception was here...but grateful for your guidance working with wedding professionals out of town is nerve racking! Donna G. 4/16

We couldn't have asked for a better lunch! thank you for the great food and service. Dianne D. NAWBO 3/16

They LOVED IT!!! Taco Tuesday! You were a huge hit and they did everything but lick the guacamole bowl clean!! So awesome – thanks again!! Roseanne G. American Home Shield 2/16
Really loved the salads, we have found ourselves a new regular caterer! ~Debbie Whitelow, Grace St. Lukes
Everything was great, we loved working with Laura Lee! This is our 2nd time using them & we were not disappointed. Sarah Beth & the whole staff were extremely helpful & wonderful to work with. We look forward using you again in the future. ~Irina from Southern Eye
The food was excellent!! We appreciate you working with us on such short notice. ~Rena Booth, Memphis Hearing Aid
Thank you so much for catering our luncheon! Everyone loved the food (especially the fruit cups and desserts) and they loooved the lunch boxes! LOL I just really appreciate you guys going through the trouble of having a late notice on the final count and bringing everything all the way Downtown like that You definitely helped make my day much easier .-Angela O. (BOMA)
Thank you so much, they loved everything!! ~Janice Cooper, Memphis Medical Society
Two days of meetings and breakfast, lunch and breaks were flawless! We so enjoyed the Taco Bar and I didn't have to overthink the dietary needs for the group! Great menu! D. Moore, International Paper 2/16
We LOVE the Italian Beef Sandwiches and the loaded baked potato soup, can we do it again for the next meeting? N. Bloodworth American Queen Steamboat Co. 2/16
Was told I needed to call you for this meeting and so thankful for the referral. Our group enjoyed every last bite! The cream cheese delight is do die for!! K. Miller, Bioventus 2/16
You guys knocked it clean out of the park!!! My crew just raved over how good the food was and I couldn't have agreed more!!! Thank you so much and for the short notice too!!! We will all tell how wonderful it was for days to come to anyone who ask us!!! Great job guys!!!!! C. Turner Nolans AV 10/15
Affordable delicious food! Wonderful service!




They have always been very professional with awesome food. I will always use Laura Lee's for all my catering needs.

I have had Laura Lee's catering service for several family and holiday functions. The service provided is very professional and the food always exceeds my expectations. Support this local business and you will not be disappointed.

Laura and her team provide high quality, delicious food for reasonable prices, and the presentation is wonderful. They are always on time and dependable. All I do is call and tell them how many people I am feeding...Laura puts a menu together, and everyone loves it. Makes me look really good!

Great Food and Great Service! I have used Laura Lee's Lunchables on several occasions and the food was always fresh and delicious and the service was always with a smile. I highly recommend them!

We use Laura Lee's constantly for corporate events. They are wonderful and accommodating to work with. The food is always excellent and the ranch chicken is to die for. Oh and ask for the apple desserts. This is a superior catering group!